Transformation of the Day: Alisha lost 18 pounds. During her four-month journey, she learned the power of portion control and took Zumba classes 3-4 times a week. She is also a member of Zeta Phi Beta Sorority and a Licensed Vocational Nurse.
What was your motivation? What inspired you to keep going, even when you wanted to give up?
I found my motivation when I went to see my nurse practitioner for a physical I needed for a job. I was disappointed with the numbers on the scale (197.8), glucometer (215), and blood pressure machine (188/94). She was ready to start me on medication. I told her to let me do this on my own before I started medication.
My inspiration was this page [BWLW on Facebook] and Instagram. Seeing women who are in my "shoes" lose weight and change their eating habits with great results kept me going!
How did you change your eating habits?
Portion control. I still ate my favorite foods (hamburgers, pasta, pizza, etc.) but in moderation. For example, I'll get a kid's burger (no fries or drink) and eat it slowly to savor the moment. Juices are my weakness, so I opted for low or zero-sugar drinks (they taste like juice that is full of sugar). I do not like sodas, and the only fried food I eat now is air fried.
What did your workout routine consist of? How often did you work out?
I worked out 3-4 times a week doing Zumba. My instructor added in mat, chair, resistance bands, and free weight exercises, which was a plus. Also, I do small exercises at home like squats using my small dogs for weight.
What was your starting weight? What is your current weight?
Starting weight: 197.7 pounds
Current weight: 179.2 pounds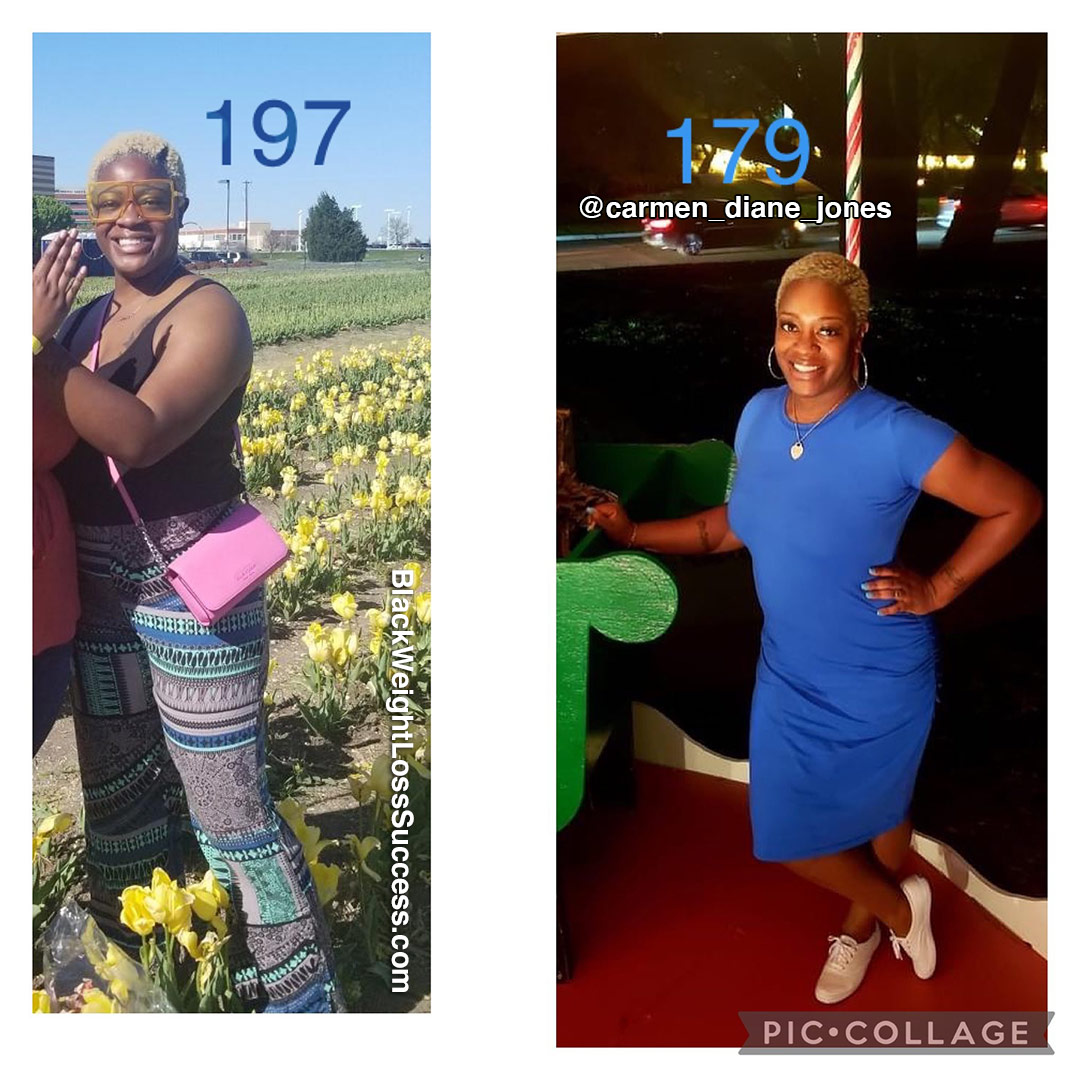 What is your height?
5'7″
When did you start your journey? How long did your transformation take?
I started my journey on 8/30/21. It took four months to get where I am.
Is weight loss surgery part of your journey?
No, I didn't have weight loss surgery.
What is the biggest lesson you've learned so far?
Don't ignore your body. Listen to it. If you're having headaches, dizzy spells, insomnia, etc., go see your PCP. Exercise and healthy food intake is your best friend.
What advice do you have for women who want to lose weight?
Keep going. If you fall, get up and keep going. Remember to savor your favorite foods so you won't be tempted to go overboard.
Instagram: @carmen_diane_jones